Guest blogger Geo Dell, author of the Zombie Plagues
Posted By Geo
It appears as though fall is finally here in Northern New York, or, as I like to think of it, Little Canada. That has been a joke with myself and my friends since we were little kids. It was because we live so close to Canada that we could pick up the Canadian television stations better than we could the American television stations. And as a teenager I probably spent as much time in Canada as I did in this area. It was like going over to the next little town. No different.
The thing I appreciated, as a curious young boy, was that channel 13, CJOH in Canada, did not censor their television broadcasts. If you watched a movie and it had anything risque in it, they showed it. Or maybe a film entirely in French. We picked up a little French living on the border, but not enough to understand it completely. But it made us feel sophisticated to watch a film in another language. Instant culture. Status. At least to us. I can remember watching Tina Turner do a concert broadcast on Canadian television, wearing a fishnet tank top shirt that covered nothing. My friend and I were floored. At least until my mother came in and flipped out. Oh well. Little Canada.
In the summer time there were always French speaking tourists. They came here just like we went there. Now if you want to cross the border you better be prepared for a wait. And I can not recall the last time I saw Canadian tourists on our streets. A long time.
I also grew up in Texas as a younger child. There we lived right on the border of Mexico. So I think I grew up with an Idea that the U.S. Borders were pretty loose things. More concept than reality. When we lived in Texas my parents took us back and forth to Mexico all of the time. There were a few places they liked to eat in Mexico. They would hop in the car and we were there. It was pretty cool.
I only mention it to relay how it used to be. The concept of another country, a border, was much different back then. And like anything else you live it seemed as though it would always be that way. It's sad to see that it has changed so drastically, and it makes me wonder how much more it will change.
Excerpt from
The Zombie Plagues Book 4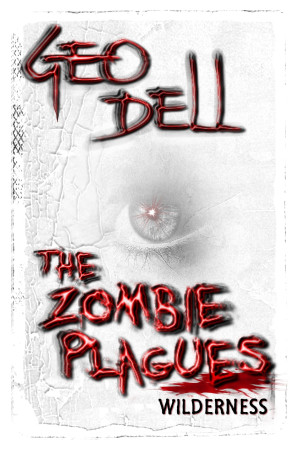 Copyright 2013 – 2014 Geo Dell All rights reserved
Used with permission.
"Dead in the trees," Bear's bass voice called out.
The noise was instant, and the flash of gunfire lit up the twilight. They were all firing hard and fast and it took Mike a second to realize that someone was yelling above the roar of the gunfire. He turned away from the wood line and that was when the first of the dead came over the hood of the nearest truck and jumped at him. He yelled as he turned his gun and fired. All hell broke loose after that.
Mike drove the barrel of his gun into the zombies head, and only barely got it lined up to do it before he found himself on the ground, the zombie biting at him as he went down, missing by scant inches. Mike pulled the trigger and the zombies head exploded in a spray of red. Almost like a fog in the air that seemed to hang there, Mike thought, as he made it back to his feet and ran at another zombie climbing over the hood of a truck near him. He realized then that the fog had stayed with him. In his eyes, he knew, and he hoped that it could not infect him that way. He squeezed the trigger briefly and the zombie climbing over the truck flew back from the hood.
He stiffened his knees to slow his momentum and the coming collision with the fender of the truck. He managed to catch himself without losing his balance and sprawling over the hood of the truck. He got himself turned and Chloe began to scream. Even as he began to turn he knew the zombie's from the woods were gone. That had been a distraction. He began to think then that they had thought out their attack. Later he was positive.
Chloe's rifle came up and she fired almost as soon as Mike had found her with his eyes. Mike's head spun trying to track what she was watching. He saw it all in a short burst. Less than a second.
Two zombies scrambled over the hood of one of their own trucks. Beth was between them. Already bitten. They gnashed their teeth and bit as they tried to drag her off. She clawed and fought. Mikes own gun started up but another spoke from behind him. All three blew apart in front of him and then the silence fell hard for a few seconds. The stench of gunpowder hung in the air. A blue-gray haze hung heavy in the air. The daylight was hanging by a thread.
Beth's body slid off the hood of the truck and slumped to the ground. The next gunshot came as a surprise. Mike spun around to find George collapsing to the ground. One hand held to his stomach. Blood streaming over his fingers as he toppled over. Brad, Beth's brother turned to Bear and his rifle started to come up.
Ronnie yelled Bear's Name. The words came from Ronnie's mouth at nearly the same time that his rifle bucked in his hands. Mike watched it all happen in slow motion. He had simply reacted. Bear finished turning and watched as Brad flew back and slammed into the fender of a nearby car. His eyes moved from Brad to Ronnie whose rifle was still clutched tightly in his hands. Barrel smoking. He had called out Bear's name and then fired. Chloe rushed over to George but he was clearly gone. Debbie came from a crouch near the fender of a truck and stumbled to her feet. Her eyes were wide and shocked. The others stood slowly and looked around.
The dead were gone. Run off into the shadows of the lot, faded back into the trees. Chloe began to stand from where she had crouched by George. She had not made it fully to her feet when his leg twitched and he started to move, his hand reaching out to grab at her. Three rifles spoke quickly and his head blew apart splattering Chloe as she tried to spring back, too late. She collapsed onto the ground and began to sob. Debbie came over, pulled her into her arms and began to cry softly with her. Mike spun and kicked the fender of a truck with one heavy boot, crushing it inward.
"Easy, Baby," Bear said in his bass rumble. "Easy." He walked to Chloe and pulled her to her feet. "Crying don't cut it," he told her. "I'd like to give you that luxury but I can't. Out here this is the way it is. I've lived with it for the last several months." He pulled Debbie up too. "You had to do it and you did. And a good goddamn thing you did it fast too… No telling how many more of us might have gotten dead if you hadn't." He turned to George and Brad. "Did anybody see what that was about?"
"George shot her too," Debbie said. "So Brad shot him… I don't know from there… She was his sister. I suppose…" She was still upset and her voice hitched and caught as she spoke.
"Can't have that shit," Bear said. His voice boomed out.
"Bear's right," Mike said loudly. "Does anybody here want to be a zombie? Because if they had gotten her over the hood of the car that's exactly what would have happened to her. She was on the way already… They already had her," his voice lowered. "Listen… Let's get some fires going… Right now… Then we're going to lay out the ground rules for the rest of this trip…Bear?" He waited until Bear looked at him.
"I don't know… You do… Should of already done this, but you're going to tell us what we need to do to get our heads out of our asses so we can get home in one goddamn piece." Bear nodded slowly. He turned back to the others. "Fires, dinner, then we talk this out. Meanwhile watch everywhere… Hard."
---
Check out more of this book at the link below…
Read more now: Click Here
---
---